The days when we had to struggle to find cruelty-free and vegan beauty products are in the past. Currently, the supply of products that meet these criteria has increased thanks to the rise of veganism and conscious consumers.
Nowadays, we can even find famous brands launching exclusive lines dedicated to cruelty-free beauty. These products are sometimes also vegan, organic, and natural.
Note: This post may contain links to affiliates.
Animal Testing for cosmetic products
You'll be wondering why is it necessary to do animal testing for cosmetics?
Well, unfortunately, some people consider it the only way to determine whether a product or its components are safe for use on humans.
Honestly, this can't be further away from reality. The fact is that animal testing is not only unethical but also archaic, painful and unnecessary. Furthermore, it is costly, and its results are unsuccessful.
Laboratories perform horrific tests on the animals. They burn, poison and abuse all these animals daily. This happens in laboratories around the world every day.
According to an estimate, the United States alone uses more than 100 million animals such as dogs, monkeys, cats, rabbits, and rats each year. 100 million!
These animals spend all their lives alone in a cage with fear and pain while being tortured.
Many of them never see the sunlight because the lab is the place they were born there and as soon as the testing is over they get killed.
But is it necessary? Are we at risk if without animal testing?
Simply no
In fact, the law doesn't require animal experimentation. Government agencies only need verification that the product is safe. Therefore, companies can use the methods of their choice which do not have to include animal testing.
For example, there are thousands of ingredients that are already classified as safe for humans and do not need to be tested on animals.
Many of the experiments are carried out is because certain companies want to develop "innovative" products with "redesigned formulas" and thus be at the forefront of the market.
But it is not necessary at all to torture bunnies for a new lipstick. Luckily, thanks to technology and advances in science, there are already other ways to determine the safety of a product.
In fact, alternatives such as cell cultures, computer models, and human tissues are often more effective, faster, and cheaper.
China's Problem
The Chinese government requires mandatory animal testing on all cosmetic products imported into the country. The government may also conduct test animals for items extracted from store shelves.
Therefore, even if a cosmetics company does not test its products or ingredients in animals, if they sell its products in China, they cannot be considered cruelty-free.
This is one of the issues that frustrate me the most.
China is the only country where animal testing is mandatory for products sold on its territory. This means that if a company is cruelty-free but starts selling its products in China, by law they must perform animal testing. There's no escape.
There is a legal gap that companies sometimes use. Testing may not apply for products manufactured and sold in China. But if any problems arise, the government can demand tests on animals. The company must comply if they want to continue doing business in China.
Therefore, to be on the safe side and at personal discretion, for me, any brand that sells its products in China is no longer cruelty-free. Because there's no way to guarantee that they're never really going to do animal experiments.
Unfortunately, the brands we've known all our lives are probably not cruelty-free. These companies take over most of the market and also have a presence in China and are constantly "innovating" with new products and formulations.
Changing the law
Organizations around the world are fighting to stop this horrible practice and use cruelty-free methods.
Fortunately, the sale of cosmetic products that have been tested on animals has been banned in various parts of the world. Countries that are already cruelty-free in cosmetics include:
Countries of the European Union,
India
South Korea,
Guatemala
Taiwan
New Zealand
Israel and
Turkey
There are other countries that are in the process of transitioning to prohibit testing on animals for cosmetic products. For example:
Japan
Brazil
Argentina
Colombia
Russia
Canada
Ukraine
Chile
Australia
United States
Vegan and Cruelty-Free Beauty- How to know which products to buy or not?
Surely if you are new to this topic you'll have many questions. I had no idea that animal experimentation was conducted on cosmetics either.
I mean, everything I used… toothpaste, soap, makeup… was tested on rabbits, rats, and monkeys?!
It was a moment of shock. Then it moved on to research, a lot of reading and finally little by little determining how I was going to replace all those things that I had used all the time.
Cruelty-Free vs Vegan Beauty
First I want to explain what is the difference between a vegan and cruelty-free beauty product and why you have to look at both.
Cruelty-free: It means that neither the ingredients nor the final product have been tested on animals anywhere in the process.
Vegan: Products that do not contain any ingredients of animal origin or their derivatives.
There are products on the market that are free of animal products, however, they have been tested on animals. Therefore, they are vegan in terms of ingredients, but not cruelty-free.
Similarly, we can find cosmetics not tested on animals but containing ingredients of animal origin. Therefore, they are cruelty-free but not vegan.
Companies are cruelty-free if they can meet the following criteria:
Their products are not tested on animals,
The ingredients are tested not on animals,
They do not pay third parties to do the testing on their behalf,
The company has checked with their suppliers of raw materials to make sure they don't test on animals,
The brand is not sold in stores in mainland China, where the law requires testing on post-or pre-marketing animals.
There are also beauty brands that are 100% cruelty-free, however, they are part of some company that does animal testing.
For example, Urban Decay is cruelty-free. It's even certified by PETA. However, its parent company is L'oreal who does carry out animal testing on several of their other brands.
It's up to each person's discretion what decision to make in terms of these cases.
Sounds complicated? In fact with some research, it is possible to buy beauty products both cruelty-free and vegan.
Animal Ingredients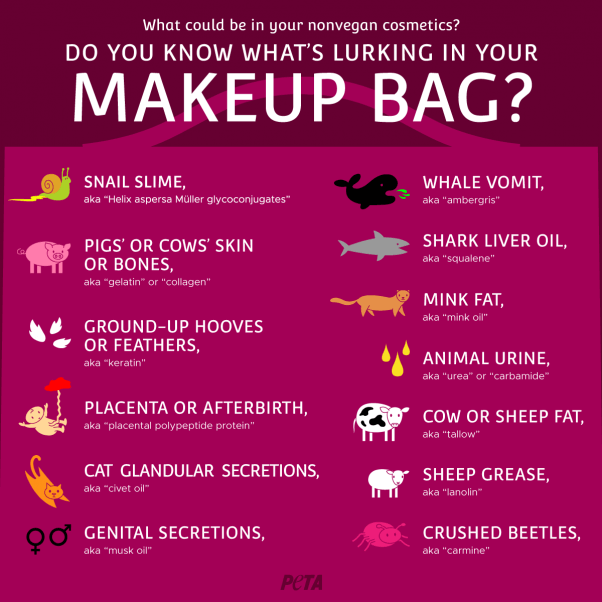 As I vegan I find it very easy now to read labels and identify ingredients. I guess it's all the years of practice!
Obviously I don't know all the names given to animal products used in cosmetics. But I have pretty much an idea of the common ones.
For a more detailed list, you can check this link.
Animal products commonly used in cosmetics:
Squalene (derived from shark liver),
Lanolin (derived from sheep),
Gelatin
Collagen
Retinol
Shellac,
Glycerin: there is plant version as well, but if the brand is not vegan you have to investigate what's the type they use,
Stearic Acid (derived from pig's stomach),
Carmine: basically crushed insects that produce an intense red coloration. Other names include cochineal, cochineal extract, crimson lake or carmine lake, natural network 4, C.I. 75470, or E120. You can find it a lot in lipsticks, eye shadows, and blush.
Honey
Beeswax: Used in mascara and lipsticks.
Labeling and certifications
Logos and labels available on the products can give us an idea if the product is vegan or cruelty-free.
Organizations like PETA, Leaping Bunny, or Beauty Without Cruelty (BWC) evaluate and support beauty brands that are cruelty-free.
The certified products will have a bunny-like logo.
However, it's important to be careful because not all logos are legitimate. Many companies indicate that their products are free of animal testing when in fact this may not be true.
Make sure the logo belongs to a reputable organization and not just a brand pretending to be cruelty-free.
It's worth noting that some brands don't have the official logo, but they are cruelty-free. This is because companies must pay an additional fee in order to display the bunny symbol on their products.
It's estimated that less than half of the brands certified by PETA or Leaping Bunny have the presence of the logo in the product. Therefore, it is important to review the database of these organizations to be able to see the full list.
With time and experience, as well as researched, we can know what brands we can trust.
Steps to start buying cruelty-free
You can do it little by little. Whether you start replacing products as you see fit. It can be first makeup, then personal care products, then cleaning products. Or whatever works best for you.
Finish using what you already have so you don't waste. Nothing can be reversed for what you've already bought.
Research for products that can replace what you use and brands available in your city.
If you see a product in a store, check the labels.
In case you find the Leaping Bunny or PETA logos check the ingredients to confirm it's also vegan. If that's the case, you already have a product!
If you see a product that doesn't show anything, look it up in the Leaping Bunny or PETA database. You can use the app to have the info at hand when needed.
Check out some of the blogs that I suggest. They have helped me a lot when I have doubts about a particular brand.
If you can't find any information, contact the company. Many companies reply and can confirm if their products are indeed vegan/cruelty-free.
Resources
Finally, these blogs, apps, and websites will help you learn a little more about vegan and cruelty-free brands and products.
Blogs about cruelty-free and vegan products
You can find guides on how to buy, guides by product type, brand status, and more.
My favorite blogs are:
Websites
You can use these pages to view listings of certified brands.
Apps
Vegan Subscription Boxes
Something that helped me a lot to discover new brands with beauty cruelty-free and vegan beauty products was the subscription boxes.
Stay tuned because I want to get more into detail about this topic, but for now, I'll leave you a short list.